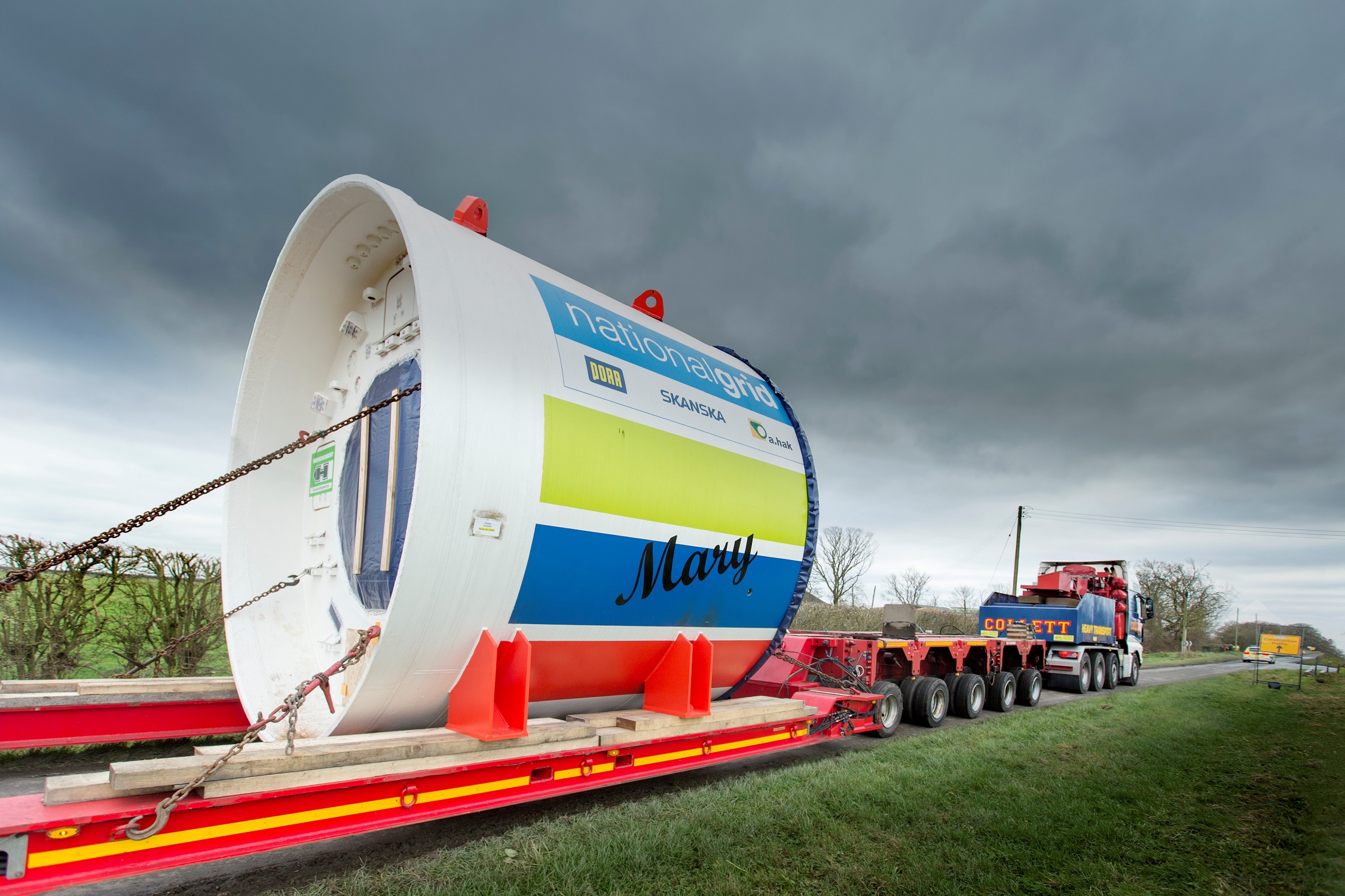 Tunnel boring machine 'Mary' helps break record under the Humber
National Grid's replacement River Humber Pipeline will help maintain gas supplies to up to a quarter of UK customers. At almost 5km in length, construction of the pipeline – which will sit within a tunnel under the riverbed – will be a significant feat of engineering. Central to the task has been a giant tunnel boring machine affectionately known as 'Mary'.
Key to supplying up to a quarter of Britain's gas, the original River Humber pipeline was built 35 years ago into a trench on the riverbed. Over time the riverbed has moved, which meant the pipeline had to be replaced in order to continue to deliver a reliable supply of gas. Boring this new tunnel, which is 30m at its deepest, took place between April 2018 and Autumn 2019. On completion, the project will achieve the record for the longest hydraulically inserted pipeline in the world.  
Not as delicate as her name might suggest, Mary is equivalent in length to 11 double decker buses and weighs in at 220 tonnes. Her name was inspired by Mary Fergusson OBE, the first female fellow of the Institution of Civil Engineers. This follows a long-standing tradition of tunnel boring machines being named before the start of tunnelling, with the hope of bringing good fortune to the project and those working below ground.  
For the last 18 months, she has been making her way steadily from Goxhill on the south side of the Humber to Paull on the north bank, constructing a tunnel  3.65m wide.
During the tunnelling process, Mary excavated 160,000 tonnes of material. Much of this was chalk which has been carefully transported back to the surface, graded and reprocessed. This is now being used in the restoration of a quarry close to one end of the tunnel.
 
As the tunnel nears completion, Mary's job is done and she has been dismantled ready to be refurbished in Germany, so she can live to bore another day. The largest three front sections left the site in early October.
Steve Ellison, National Grid's Lead Project Manager, Capital Delivery, said: "[This] is a major milestone for the project team and our project partners. It's the first time a tunnel has been constructed beneath the River Humber and is a fantastic achievement for everyone involved."
"Mary has completed a feat of engineering and it's great to see her on her way back to Germany, where as much as possible [she] will be refurbished and renewed to get her ready for her next tunnelling job."
The new River Humber pipeline insertion is due to be completed in Spring 2020. Check back for further news and information.
Find out more about the River Humber pipeline replacement project.