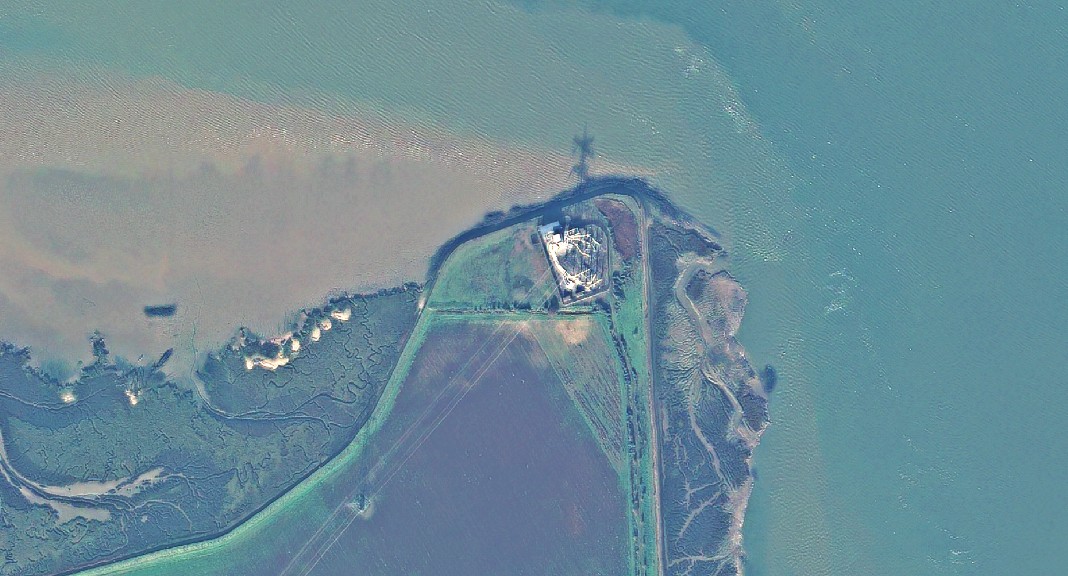 Britain's energy networks look to space to help boost climate change resilience
Satellite imagery and data could help improve future grid resilience

Potential for £22 million in cost savings by adopting new technology

All energy networks could benefit, including electricity and gas transmission and distribution

An innovation project is harnessing space technology to help boost the resilience of energy networks against the impacts of climate change.
The Eye in the Sky initiative, led by National Grid and funded by Ofgem and Innovate UK's Strategic Innovation Fund (SIF), is exploring how satellite imagery and data analytics could improve the visibility of Britain's electricity and gas network infrastructure, helping to monitor its condition – and changes to the surrounding environment – around the clock.
National Grid aims to use the technology to strengthen energy networks' reliability and emergency response capabilities, with partners including the European Space Agency, Cranfield University, satellite data specialist Spottitt and expert in risk management and quality assurance DNV supporting the project's initial phases.
Traditional ways of monitoring energy infrastructure include ground patrols and aerial surveillance by helicopters or drones, which – while essential for close-up inspection of equipment – cannot always access the most remote parts of the network quickly.
The innovation could deliver up to £22 million in cost savings over a decade, with further consumer benefits including faster emergency response, quicker system recovery and better grid reliability
The project is looking at how satellite images and analytics can be beamed back to specialist engineers to assess changes to infrastructure and its environment – perhaps caused by geographic anomalies, extreme weather or human interference – allowing rapid assessment of risk or damage, more efficient deployment of teams to fix issues, and network reconfiguration to avoid outages.
The technology could support with business-as-usual maintenance, for example detecting overgrown vegetation or objects that could pose a risk to infrastructure, and could help reduce emissions through aerial or ground patrols being scheduled more efficiently.
There is even potential for the technology to create predictive models for future events associated with climate change, with atmospheric sensors correlating with network data to improve understanding of weather events' impact on the grid.
It's estimated that the innovations being explored through the project could deliver up to £22 million in cost savings over a decade, with further consumer benefits in the form of faster emergency response, quicker system recovery and better grid reliability. All energy networks, including electricity and gas transmission and distribution, could benefit from the technology.
The project is funded through Ofgem's new Strategic Innovation Fund (SIF) with Innovate UK, which backs ambitious, innovative projects which are helping to shape the future of the energy networks and accelerate the transition to net zero, at lowest cost to consumers.
The Eye in the Sky initiative has completed its initial 'discovery' phase trialling its approach on over 1,700 miles of energy network, and recently won extended funding through SIF to further develop its concept into the 'alpha' phase, which commenced in August.
Sean Coleman, innovation manager at National Grid, said: "Eye in the Sky is exploring the really exciting prospect of using satellites to monitor grid infrastructure and the surrounding area, helping us understand how and why networks are being affected.
"If a change is detected, the technology could inform an engineer on the ground who can analyse the data to make a more informed decision on how to respond. It could further streamline our processes and bring benefits to consumers in terms of cost and grid resilience."
Lucy Kennedy, CEO and co-founder of Spottitt, said: "With a lack of geospatial information about what is going on in and around our critical assets causing 200 billion pounds worth of preventable losses globally, it is exciting to see how the scale, revisit frequency and overall monitoring potential of satellites is being increasingly recognised and explored by owners of critical infrastructure of all types."
Rafiek Versmissen, head of the Energy Strategy Advisory at DNV, said: "This is an imaginative project that will use comprehensive data collection to improve the visibility and contribute to increasing the resilience of our network infrastructure. The result will demonstrate, clearly, the actions required for efficient network planning, safety and risk mitigation.
"The use of satellites to monitor the grid is a radical innovation and we, in DNV, are delighted to be a partner in this project."