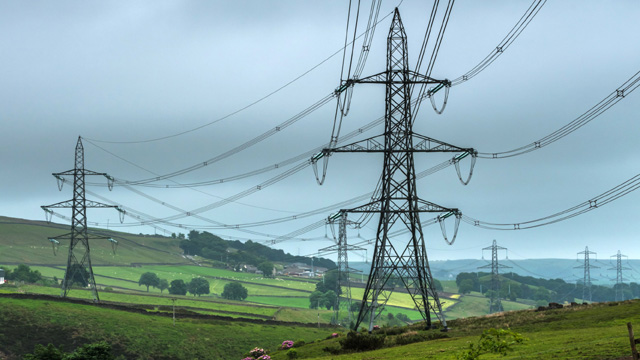 Removing pylons to restore Britain's natural beauty
With planning permission for two new projects to remove pylons in Snowdonia and the Peak District just granted, we look at how our Visual Impact Provision initiatives are helping to enhance some of Britain's most beautiful landscapes.
When the national electricity network expanded in the 1950s and 1960s, to meet post-war demand, the authorities at the time wanted to achieve electrification as quickly and cost-effectively as possible. This sometimes meant that vital structures, such as pylons and overhead wires, were built where necessary, not where they'd be least intrusive.
The legacy of this expansion programme is that pylons and wires are still found in some of Britain's most beautiful landscapes; even in national parks, where they can impact otherwise stunning views for millions of visitors every year. This problem was the inspiration for the Visual Impact Provision initiative.
Making use of a provision from Ofgem, this initiative sets out to significantly reduce the visual impact of electricity infrastructure on scenery in English and Welsh Areas of Outstanding Natural Beauty (AONB), National Parks and Scottish National Scenic Areas.
 
Bringing back more of Britain's beauty
Advised by some of the UK's leading landscape experts and organisations, including the National Trust, CPRE and Historic England, stretches of line where removing overhead wires would make the greatest improvements were identified.
The first of these is in the Dorset AONB, near Dorchester. This rolling green landscape features the Hardy Monument, a local landmark that commands sweeping views over the chalk downs. To help restore the natural beauty of this unique environment for visitors, by 2022 we will have removed the almost 9km of overhead lines and 22 pylons that can currently be seen from the top of the monument.
Instead of running across the skyline, new cables will be buried underground. As part of any project like this, we are careful to minimise the impact on the natural environment, but our work in Dorset has led us to uncover some fascinating historical finds.
 



Unearthing ancient history
The whole area of the Dorset initiative is well known for its rich archaeology. So, before we could start on site, we collaborated closely with Historic England and the Dorset County Archaeologist to identify sites of potential archaeological interest along the proposed route.
Following extensive survey work, using the latest hi-tech, 'Ground Penetrating Radar' equipment, our expert teams set about excavating trial trenches in over 140 locations and pretty quickly found a flint arrowhead. This was just the tip of the archaeological iceberg and the team went on to discover the corner of a Roman building, as well as seven skeletons dating back to the 6th Century. They were in remarkably good condition, as they'd been protected by stone-lined coffins. Our archaeological team removed the skeletons for carbon dating and they were then carefully reburied.
Construction work is ongoing in Dorset so the archaeologists remain on site, keeping a constant eye out for any more buried historical treasures as the cable trenches are dug.
Snowdonia scenery
Another of our Visual Impact Provision projects has moved a step closer, with planning permission now granted for the first stages in the transformation of the nationally significant Snowdonia landscape.
Snowdonia National Park Authority and Gwynedd Council gave the go-ahead for the first stage of this project, which is the building of two tunnel head houses on the edge of the National Park. These will form the openings at either end of a new tunnel under the Dwyryd Estuary. When the tunnel is completed, it will allow the removal of ten pylons and 3km of overhead wires that run from Minffordd across the estuary to just beyond Cilfor, improving the estuary views significantly.
 
Picturesque Peak District
Our Peak District VIP initiative is taking shape too. Here, we're looking to replace a 2km stretch of overhead wires and pylons beside the Trans Pennine Trail, a popular hiking and cycling route, and around the village of Dunford Bridge. Planning permission was granted by Barnsley Council recently and follows Peak District National Park's approval of the proposals last month.
The next step now is to make funding submissions to Ofgem. Subject to their approval, construction work can start on these two projects, in addition to the one in Dorset. So, in the near future, visitors and locals alike will be able to enjoy some of Britain's most scenic areas even more.
 
Everything you ever wanted to know about electricity pylons and their history