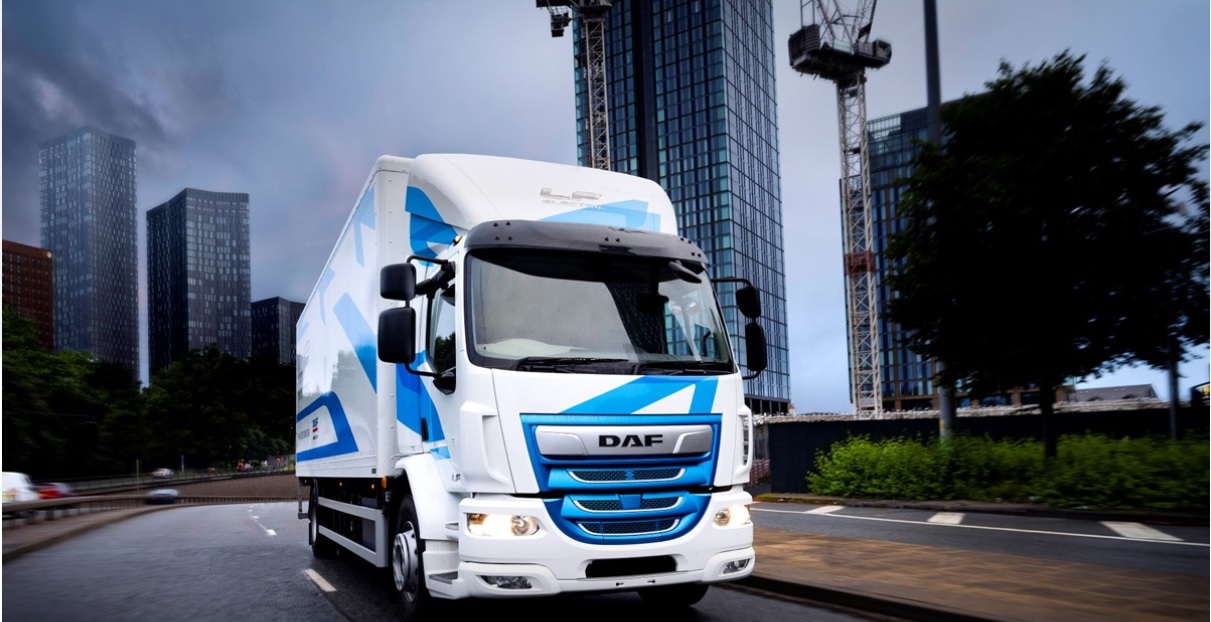 New National Grid-led analysis shows expanding Government's electric vehicle Rapid Charging Fund (RCF) would accelerate the decarbonisation of all road transport
National Grid-led analysis, supported by Heavy Goods Vehicle (HGV) manufacturers and freight industry, maps out how a future on-route charging and hydrogen re-fuelling network for HGVs can be delivered at pace, economically and efficiently   

By expanding to cover all road transport the Government's £950m Rapid Charging Fund (RCF) could deliver enough capacity for on-route HGV charging and hydrogen re-fuelling at up to 78% of motorway service areas in England 

Our analysis shows for a small marginal cost increase, enough grid capacity to cover 100% of on-route HGV charging and hydrogen re-fuelling can be delivered – with the potential to realise cost savings by coordinating with the Zero Emission Road Freight Trial (ZERFT)

A new report from National Grid, delivered in partnership with the transport and freight industries, shows that zero emission HGVs (either fully electric or hydrogen fuelled) will require similar connections to the electricity transmission system and in similar locations required by cars and vans.
Since 2019 National Grid has been working closely with Government and industry on developing charging infrastructure to meet long-term consumer demand for electric vehicles. Our proposal for a fast-charging network was supported by the Office for Zero Emission Vehicles (OZEV) in March 2020 through its RCF enabling £950 million to deliver fast charging at more than 110 motorway service areas (MSA) over the next five years. 
OZEV then published guidance on how the RCF could be spent to ensure motorists are always within 30 miles of an ultra-rapid charging station across both motorways and A-roads. It targeted six high power, open access charge points at each MSA by 2023, and 6000 in total by 2035. The natural synergies between the transmission system and the country's transport network means a significant number of these charge points could be supplied by existing National Grid infrastructure.
It models the charging profile of the UK's HGV fleet, assuming that 70-90% of HGVs will be charged or re-fuelled overnight in their depot or at their destinations. For the remaining 10-30%, this will need to be delivered on-route, given HGV drivers are legally required to stop for 45 minutes every four and a half hours we assumed a 30-minute window in each 45-minute break, and cross referencing it with information on the strategic road network and electricity transmission system, it is possible to map out a future on-route charging and hydrogen re-fuelling network for HGVs and other transport.
The analysis and modelling found 53-78% of on-route charging and hydrogen re-fuelling at MSAs can be provided at no extra cost to the RCF, if transmission connection solutions, for example existing substations, are used.  A small marginal cost increase of 3-16% to the RCF can provide the necessary capacity for the remaining sites across England. There is further potential to realise cost savings by coordinating with the Zero Emission Road Freight Trial (ZERFT) as it looks to deliver early trials which will also require electricity capacity. Other sectors using the strategic road network could also then benefit from this additional infrastructure, including long-distance coaches and vans.
The analysis builds on the government's recent EV Charging Infrastructure Strategy, giving more detail on the potential size and location of future infrastructure – outlining the importance of connections to National Grid's electricity transmission system.
Planning future charging infrastructure around connections to the transmission system can bring cost savings and reductions in the amount of infrastructure required.
Graeme Cooper, Head of Future Markets at National Grid, said: "The switch to fully decarbonised road transport will only happen if we have the right wires in the right place, at the right time. 
"Our analysis shows the importance of digging once and in the right location. Planning future charging infrastructure around connections to the transmission system can bring cost savings and reductions in the amount of infrastructure required.
"We look forward to working with government and the wider industry to continue planning the future charging network and begin delivering the interlinked energy and transport system of the future."
Michelle Gardner, Head of Public Policy at Logistics UK said: "In order for our members to confidently switch to these vehicles, there must be the right infrastructure, in the right places, at the right time. Early planning and future-proofing the delivery of additional energy capacity along the strategic road network will help this infrastructure be delivered in the most cost-effective way."
Chris Ashley, Environment and Vehicles Policy at The Road Haulage Association said: "We strongly support the aim of decarbonising the HGV sector and welcome National Grid's commitment to expand Project Rapid. It marks an important step in the investment needed to support a viable transition towards zero tailpipe emission commercial vehicles."
James Venables, eConsultancy Manager at Mercedes-Benz Trucks UK said: "We are delighted to have provided our input into this excellent National Grid analysis. We're bringing trucks like the battery-electric Mercedes-Benz eActros Long Haul to market, but the provision of suitable HGV charging infrastructure on the UK's Strategic Road Network is essential to the success of Daimler Truck's decarbonisation strategy. Collaboration is key for our customers to meet their zero-emission goals."
Andrew Scott, Head of Electric Mobility at Renault Trucks said: "The work of National Grid indicates that such a charging infrastructure could be facilitated through a modest extension of Project Rapid. We believe this would be a very strategic and worthwhile investment which would significantly increase confidence in and take-up of decarbonised commercial vehicle solutions."
Tanya Neech, Head of Sustainability at Scania UK, said: "Scania fully supports the Government's and National Grid's ambition to decarbonise heavy duty vehicles, but it's imperative we get it right. Time is of the essence, and with our science-based targets guiding us, we are ready for the future.  However, the infrastructure isn't. We need adequate provisions for these vehicles and long-term subsidies and incentives to create competitive total cost of ownership and operating costs.

"Making the right decisions now and ensuring that Project Rapid considers and includes HDVs is essential, to make it not only possible for us to reach our Net Zero goals but also viable for businesses to make the switch to zero emission vehicles."
As the owner and operator of the electricity transmission system, National Grid is poised to facilitate and help drive the transition to cleaner transport in the UK. It is working with all transport sectors to help them decarbonize, including partnering with Siemens on a tool to help ports forecast the future infrastructure needed to meet potential increased demand for electricity from zero emission operations.  Read more about National Grid's role in the decarbonisation of transport.
The report will be officially launched at the Innovation and Technology in Transport (ITT) event at Farnborough International 11-12 May 2022.
Contact for media information only:
Helen Blake +44 7790 824788