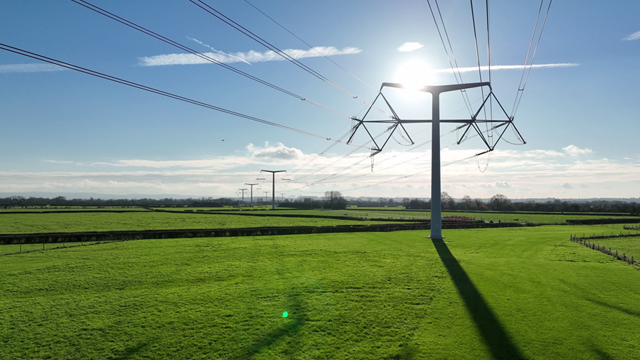 National Grid energise world's first T-pylons
Electricity is flowing to homes and businesses through the first new pylon design in the UK for nearly 100 years.

Major milestone in National Grid's Hinkley Connection project to connect 6 million homes and businesses in the South West to home grown, low carbon energy.

The T-design, with a single pole and cross shaped arms, is around a third shorter than the traditional design with a smaller ground footprint.

The T-pylons, along with a new substation and underground cabling, are now incorporated into National Grid's electricity

transmission network delivering electricity in Somerset and across England and Wales.

National Grid has successfully energised 36 of the world's first T-pylons between Bridgwater and Loxton in Somerset. The new shaped pylons have been constructed as part of the £900 million Hinkley Connection Project, a new 57 km high-voltage electricity line that will connect six million homes and businesses to new sources of home grown, low carbon energy and help the UK to meet its net zero by 2050 target.
High-voltage electricity – up to 400,000 volts – is now passing through the T-pylons, a newly constructed electricity substation at Sandford and 8.5km of underground cables through the Mendip Hills Area of Outstanding Natural Beauty. A further 80 T-pylons will be completed and energised by 2024. 
Construction of the first T-pylons began in September 2021, with all the conductors or wires that  transmit the energy between Bridgwater and Loxton installed by March 2022. The conductors are now energised and transporting electricity around the National Grid's electricity network.
The T-pylon design, the first major UK redesign since 1927, has a single pole and cross shaped arms, and is around a third shorter than traditional high-voltage pylon design with a smaller ground footprint. The new design was selected from over 250 designs entered into an international competition run in 2011, organised by the Royal Institute of British Architects and government (the then Department of Energy and Climate Change). With a need for new energy infrastructure to enable progress towards net zero, the competition sought a new design to reduce impact on the local environment and surroundings.
Along with offshore routes, underground cabling and continued use of traditional lattice pylons, the new T-pylon design is a potential technology choice for future projects. Each new transmission network project is assessed on a case-by-case basis, with the technology used by National Grid based on planning policy and regulations set by Ofgem as well as engineering, environmental and cost considerations.
Steven Haskayne, Project Director for National Grid said: "We're extremely proud to have reached this significant milestone on the Hinkley Connection Project.

"The T-pylons are now reinforcing and strengthening the network in the South West and are ready for the connection of low carbon energy when Hinkley Point C starts generating.

"This new design forms part of our significant investment in the network in England and Wales, adding capacity onto the grid to deliver low carbon electricity to millions of people across the UK to use for years to come, and helping the UK's journey towards net zero."
Minister for Nuclear and Networks, Andrew Bowie, said: "As the Minister for Networks, I am delighted to see National Grid reach this impressive milestone. The world's first T-pylon design will connect millions of homes with reliable, low carbon electricity.
"I look forward to visiting National Grid's world-leading Hinkley Connection project this week to see first-hand their innovative network infrastructure that is placing the South West at the heart of the UK's plans to deliver green growth and energy security."
Contact for media information only:
Helen Blake
+44 7790 824788
---
Notes to Editors
More on T-pylons and National Grid's Electricity Transmission network
The T structure is the first amendment to the traditional lattice design in nearly 100 years. The lattice pylon was the winning entry in a 1927 pylon design competition ran by the Central Electricity Board, chosen by architect Sir Reginald Blomfield.
There are around 22,000 pylons stretching over more than 7700km (4300 miles) of high-voltage overhead lines in England and Wales.
In addition to pylons, National Grid's high voltage transmission network comprises of 4,500 miles of overhead line, 1,500 miles of underground cable and 350 substations.
£20 of the average annual household bill goes toward operating and maintaining the electricity transmission network.
Since 2018 National Grid has invested £5 billion to upgrade, adapt and maintain the electricity transmission network in England and Wales, including London Power Tunnels a £1 billion investment to rewire South London and future proof electricity supplies to the capital.
 
More on the Hinkley Connection project
The Hinkley Connection Project is a new high-voltage electricity connection between Bridgwater and Seabank near Avonmouth. It is a significant investment in the region's electricity network and will enable us to connect new sources of home grown low-carbon energy to homes and businesses, including Hinkley Point C.
It will play a vital role in delivering electricity safely, efficiently and reliably, and support the UK's ambition to achieve its net zero by 2050 target.
The project began in 2009 and over the next five years there were several stages of pre-application consultation which in total received more than 11,000 pieces of feedback. This helped shape plans and ensured balanced decisions were made in line with our obligation to comply with Government policy and legislation, while also making sure we met technical and safety requirements.
Following extensive consultation, a Development Consent Order was submitted in May 2014 and following an examination period, permission was granted by the Secretary of State in January 2016.
The new high-voltage 400kV overhead line featuring the new T-pylons is just one element of the Hinkley Connection. The full route is made up of 14 interconnected project stages which are set for completion by 2025. It includes modifications to the existing local network by removing 67km of overhead wires (including 249 pylons) and 8.5km of underground cables through the Mendip Area of Outstanding Natural Beauty, which will leave the area free of pylons for the first time since the 1960s.
Significant milestones include:
Construction and commissioning of two substations, at Shurton and Sandford.

Installation of 8.5km of underground cable under the Mendip Hills Area of Outstanding Natural Beauty.

Construction of Loxton Cable Sealing End, next to the M5 where the T-pylons connect into the underground cables.

150 existing pylons removed to date.  249 in total will be removed from the Somerset landscape as part of the project.

Energisation of the new high-voltage electricity connection between Bridgwater and Sandford, including 36 of the world's first T-pylons.
National Grid is delivering the nationally significant Hinkley Connection infrastructure alongside its five specialist principal contractors: Balfour Beatty (400kv overhead lines and cables), Siemens Energy (Sandford substation), J Murphy and Sons (132kv cables), Morrison Energy Services (Shurton overhead line entries) and Linxon (Shurton substation).
The project has to date awarded more than £1.1 million in community grants to 75 different projects in areas nearby and ensured access to the latest science and technology equipment for more than 400,000 local pupils in the South West through the Hinkley Connection Project Education Fund.
The Hinkley Connection project began construction in 2018 will be ready to connect to Hinkley Point C by the end of 2024, with the project complete, including reinstatement at the end of 2025.
 
National Grid in the UK
National Grid sits at the heart of Britain's energy system. The individual companies in our group run the networks and infrastructure that connect millions of people to the electricity they use every day.
Our regulated businesses own and develop the high voltage electricity transmission (ET) network in England and Wales, and the electricity distribution (ED) network in the Midlands, South West England and South Wales. The electricity system operator (ESO) is the legally separate (and in the process of becoming fully independent) arm of our group which manages supply and demand on Britain's electricity transmission networks. Operating separately from these core regulated units, National Grid Ventures (NGV) focusses on competitive markets, investing in energy projects, technologies and partnerships such as electricity interconnectors.
We bring energy to life, with an ambition to serve our customers well, support the communities in which we operate, and make possible a clean, affordable and resilient energy network of the future.
Find out more about the energy challenge and how National Grid is helping find solutions to some of the challenges we face at https://www.nationalgrid.com/group/news
National Grid undertakes no obligation to update any of the information contained in this release, which speaks only as at the date of this release, unless required by law or regulation