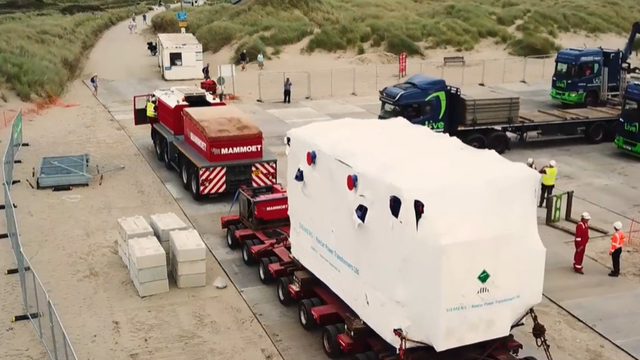 National Grid announces brand new electricity transformer to be delivered to Trawsfynydd via barge and Black Rock Sands beach in early July
The barge was delayed by challenging weather conditions but arrived at Morfa Bychan on Wednesday, July 5.
The new transformer will ensure electricity supplies remain secure and reliable for the local area.

Crowds expected to see feat of engineering and logistics which could be the biggest ever transformer in the UK delivered via barge and beach.

Sign up to National Grid's text service to get up-to-the-minute information.

A new electricity transformer will be delivered by barge to Morfa Bychan (Black Rock Sands beach) on Monday 3 July and moved to Trawsfynydd Substation near Trawsfynydd, Gwynedd on Wednesday 5 July.
The new transformer replaces one already at Trawsfynydd Substation, which is at the end of its working life. National Grid has already successfully delivered a similar transformer in September 2020 along the same route. 

The last time a transformer was delivered via Black Rock Sands beach it proved popular locally, with scores of people descending on the beach and lining the route as it made its way to Trawsfynydd. This transformer will be even bigger at 155 tonnes and could be the largest ever delivered via barge and beach in the UK.

National Grid delivers power safely, reliably and efficiently to communities across Wales and Trawsfynydd Substation is a key part of critical electricity infrastructure in the local area.
The transformer is planned to start its journey at 9am on Wednesday 5 July from Black Rock Sands beach, depending on weather and tidal conditions.
A rolling road closure with police escort will be used to manage traffic and ensure safety, but as a result, there may be some travel delays. National Grid and its delivery partner Allelys have spent months planning the route, to keep the impacts to traffic and local people to a minimum.
The transformer will follow the following route on Wednesday 5 July.
Depart Black Rock Sands

Turn right onto High Street

Continue onto Britannia Terrace

Continue onto A487

Continue onto A470

Arrive Magnox Trawsfynydd
If you are planning on using these roads, we recommend allowing additional journey time or to use an alternative route.
We've been planning this for months to ensure we can continue to deliver power reliably and safely to the local area.
Tony Jones, Project Manager for National Grid said: "Local people rely on us to supply their electricity without interruption so it's important that we keep our substations and the equipment in them working effectively. We've been planning this for months to ensure we can continue to deliver power reliably and safely to the local area.
"We are working closely with the local council to ensure security and the smooth running of this project as we know local people may be interested to view the display of logistics and engineering."
To keep local people updated and informed on the morning of the transformer movement, there is a broadcast text service available in real time. A text message will also be sent if there are any changes to the times or routes. To subscribe to this free text messaging service, please text TRAWS to 82228.
National Grid is working to keep any disruption to a minimum, anyone with any queries should contact the community relations team by calling 0800 915 3594 or by emailing [email protected]
Contact for media information only:
Helen Blake
+44 7790 824788
* the image used shows the delivery of a transformer via Black Rock Sands beach in September 2020.