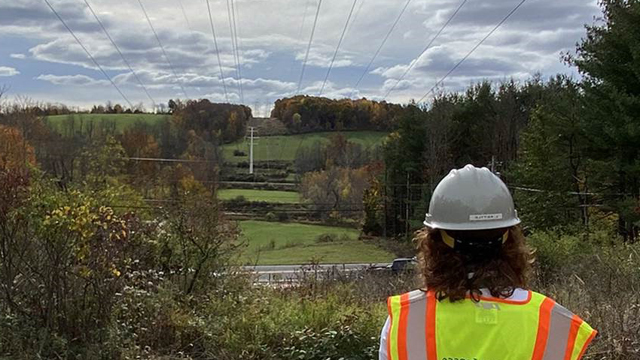 Building a cleaner energy future
When Lisa Kettle, Senior Project Manager for National Grid Ventures, pursued a career in engineering, little did she know it would take her all around the world; from Ireland and Belgium to Dubai and the United States, building the roads we drive on and the transmission networks that deliver our electricity. Now Lisa is helping to lead a team on the vanguard of combatting climate change, upgrading more than 54 miles of electricity transmission lines in New York to further facilitate the clean energy transition and unlock renewable energy resources in the state.
We recently sat down with Lisa to learn more about her career journey and her work on the New York Energy Solution project – which just achieved another important milestone, with the Public Service Commission approval of the Environmental Management and Construction Plan to construct the northern portion of the project between Knickerbocker Switching Station and Churchtown Switching Station. The project is being developed by New York Transco, which is part-owned by National Grid Ventures (NGV).
How did you get started in a career in engineering?
When I was in primary school, I really liked art and science, so it started there. As I continued my studies, I was good at physics and liked architecture but I didn't want to spend seven years at university. I ended up studying general engineering at Trinity College in Dublin where, for the first year, I had a chance to do everything – civil, electrical, chemical, computer and mechanical engineering. Ultimately, I pursued a career in civil engineering, as it was the discipline that allowed you to travel the world the most. People always needed things to be built or fixed. I chose Geotech and roads as specialties.
What did you do in your career prior to joining National Grid?
In my first job I went into consultancy for civil engineering, focusing on roads. This gave me the opportunity to work and live in Dubai for six months on a project assignment. It was at that time that I really had a chance to realize the opportunity my studies in engineering gave me. At that first job I was able to do a mix of office work, which was a lot of theory and design, as well as some on-site work. I really loved the latter, being able to put theory and design into practice.
As a result, I moved onto a new role as a resident engineer in an on-site role, developing a ring road around a small village in Ireland, which required three years of site work. I've been lucky to have some exceptional mentors in my career and it was on this project that I had my first strong female role model in engineering. I learned a lot about respect and fairness from her. Once the contract was finished the economic recession hit in Ireland, so I began looking for my next opportunity, which happened to be at National Grid in the UK.
What's your career journey been like here at National Grid?
I started out within the Electricity System Operator, contracting energy for the control centre to put agreements in place so that, if we were ever in a bind, we could ramp up or ramp down at a moment's notice. There was a great learning curve with this role, to learn more about electricity and renewables. After two years in that role I moved into investment delivery, which was engineering adjacent. So, having an engineering background meant I could talk to the engineers but then translate for the rest of the world, including customers.
After that I went into my first management role in National Grid, looking after construction contracts. There I had another great female role model who I learned a lot about large team management from. It was a really good, challenging job with a fantastic team of people, where no day was the same as the one before.
From there I was approached to support the Nemo Link Interconnector project as Commercial Construction Manager, where I managed the Construction Contracts and business procurement. We had a great culture on the team and a fantastic leader in Mike Elmer, who brought many nationalities together. Frequent trips to Belgium to work with the Elia team were a pleasure. The project finished ahead of schedule and under budget, so it certainly ended on a high. I was then ready for my next role within NGV, which was with the New York Transco team.
Tell us about your current role with New York Transco. What's it been like working on the team and progressing projects like the New York Energy Solution?
I am currently Senior Project Manager on the New York Energy Solution. There's a dynamic and agile team at New York Transco, who are willing to go above and beyond, be innovative and solve problems. Being one of the few seconded staff, I've been made to really feel like part of the team and am able to have my voice heard, so I'm very proud of that.
I'm also really proud that we're pushing ourselves to achieve great things and are actually achieving them. For example, we just received our Phase 2A approval for the New York Energy Solution, so construction on the next phase of the project will soon commence. It's satisfying to witness people coming together internally and externally to meet milestones like this, understanding both the challenges and the benefits of the project.
What advice would you give to people pursuing a career in engineering?
There are so many facets to engineering. It's a career that opens up so many opportunities and the world really is your oyster with an engineering degree. To succeed in engineering, you need to be on board with the fact that it's not a traditional 9 to 5 job, although you certainly don't just live to work. You also leave part of yourself with every project you work on – they become a part of you and vice versa.
While I don't classify myself as a 'female' engineer, I do think that it's a pity there's still just a small percentage of female engineers in the field, particularly in energy. With the female engineers I've worked with and the female managers I've had, there's a bit of a sisterhood. In my experience, they bring a balance and an earnestness to the table that enhances the team perspective.
My philosophy on people development reminds me of a quote one of our leaders often references, 'If I meet a manager, I get a sense that they're important. When I meet a leader, I get a sense that I'm important'.
I really believe in building on the capability we have in the business, training the next me in a sense. Though I recognize I'm on my path and it may not be the same for my direct reports, my aim when developing people is that I'll protect you, I'll support and nurture your interests and then, when the time comes, I'll watch you soar.