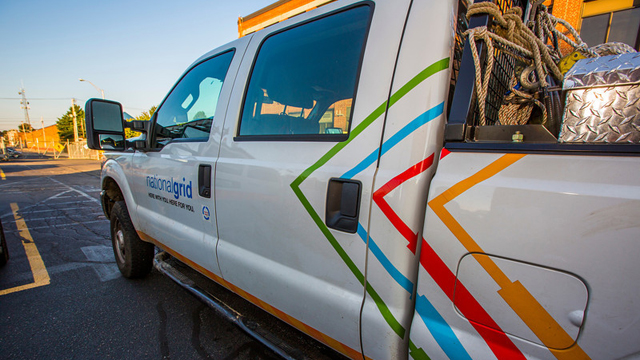 I wanted to chase gas leaks and dig up the street – just like the men!
Rea Plummer is a Supervisor in Gas Field Operations in New York. Ten years ago, she was one of the first women to work in field operations. Rea co-founded National Grid's employee support group Women in Non-Traditional Roles.
Rea joined National Grid in 2009 and is based in the Queens Service Center in New York, where her role is all about maintaining the gas network; from locating and fixing gas leaks to dealing with emergency call-outs.
A life changing career switch
Gas maintenance was not Rea's original career plan. She took a degree in mental health and worked in the not-for-profit sector with disadvantaged children and adults, including helping ex-prisoners find jobs.
So, switching to National Grid and being out on the road fixing the gas network was quite a contrast. Rea says: "I was attracted to taking on a whole new role and doing something totally different from what I was used to."

Initially Rea took a role as a gas meter reader. "While meter reading out in the district, I would see these men in big National Grid trucks with tractors on the back of them. One day I asked another employee what those men did for the company. They told me they chase gas leaks and dig up the street. I said, 'I want to do that, it seems interesting'."
The response spurred her on. "The man I was speaking to said, 'Oh you don't want to do that – it's hard and you'll get cold and hot outside'. I told him I'm up for a challenge and I'd do it well." She signed up straightaway and that was over 20 years ago.
Early encouragement
Despite some skepticism, Rea did encounter supportive and encouraging male colleagues too. Over a decade on, Rea still remembers a particularly positive influence from that time.
"When I was coming through training for gas fundamentals at the beginning of my career, I met an instructor who had a good conversation with me at the end of school. He told me that, as a new employee and a woman coming into a non-traditional role, I'd encounter challenges. But he went on to tell me that I seemed to be a strong individual, with a good work ethic and that I would do well. That has stayed with me over the years, through the up and downs."
A woman in a man's world
Moving into such a male-dominated environment was still quite a shock for Rea.
She says: "It was an eye opener – there was so much to understand and it wasn't the norm for a woman to want to do construction and work out in the elements. It was a big adjustment for me and my male counterparts to understand how to interact with one another."
Pushing boundaries and challenging gender stereotypes
Over the time Rea has been at National Grid she's seen things really improve for women in operational roles like hers. "There have been a number of changes for women in National Grid – there are a lot more women in field-based jobs, when there were no women at all in the past."
That said, she is still the only female fore person in her area. She'd love to encourage more women into this sort of work and, central to this, has been co-founding and chairing the group for women at National Grid who work in non-traditional roles (WINTR).
"WINTR has been very instrumental in bringing vital information to women about field work. There's been great support from front-line supervisors, all the way up to executive level. Now being in management, I see the milestones that have been reached at National Grid. They've invested a lot of efforts around developing programming and workshops to retain women."
Rea believes that her involvement with WINTR has been good for her as well as others. "It's had a major impact on my development and growth, both professionally and personally."
Raising a reaction
When people learn that Rea is a woman working in gas maintenance, they're often surprised.
She says: "When I tell people what I do for a living they're amazed that I have the ability to work in such a dangerous, high-stress and high-energy demanding job, especially being a woman in a male dominated 'sport'.
"They ask me what made me take on such a role, knowing it would be very hard to be accepted. I say that you have to be strong and do the right thing, and everything will work itself out in the end."
Appreciating support from others
Rea believes she's been supported as a woman in such a male-dominated environment by meeting other women in similar roles – and by the support of male mentors too.
She says: "What has really helped me is support from more seasoned people, who have been field employees for many years. Just to name a few, Louise Barnes, who was the first female 'A' mechanic in downstate field operations, has been my mentor and champion.
"Then there's Vaughn Becote, who is a Senior Supervisor in Gas Field Operations. He's a grass roots efforts supporter of WINTR and, again, a mentor, champion and advocate for my professional growth."
Practical advice for other women wanting to work out in the field
"I'd advise young women who are interested in field employment to get their personal lives in order first, because of the shift work," she says. "They need to have a conversation with families, letting them know what the possible outcomes are of taking on this new position and the support they'll need as an emergency worker.
"I would also tell women that they will face a lot of challenges along the way, but having a good support system, both personally and professionally, will go a long way."