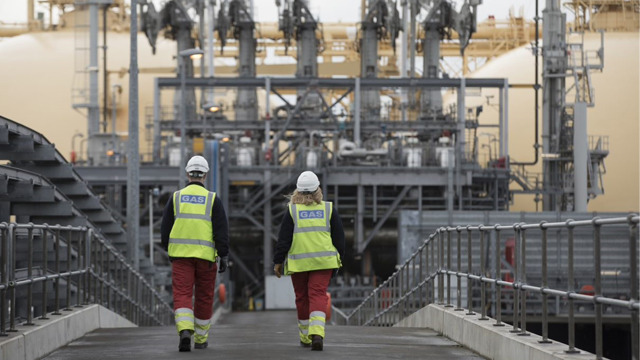 National Grid's Grain LNG terminal instrumental in GB gas security of supply
91 ships docked at

National Grid's Isle of Grain terminal in 2022

Busiest ever year for the site and a 60% increase in shipments on 2021

At times Grain supplied one fifth of GB gas demand

The team also broke its own unloading record for the last quarter of 2022 with 37 vessels

The team at National Grid's Grain LNG terminal in Kent have recorded its busiest year on record. The facility, which enables ships to dock, offload and store Liquified Natural Gas (LNG) in its tankers, has seen 91 ships arrive on site in 2022 – 60 per cent more than in 2021.
The previous record year was in 2011, when the terminal unloaded 66 ships. Once offloaded at Grain, the LNG is converted to gas and can then be sent out into the National Transmission System (NTS) throughout the UK or exported into Europe to support neighbouring countries.
In 2022, Grain LNG sent over 82 TWh (Terawatt hours) into the UK's NTS, compared to 59 TWh in 2021, an almost 40 per cent increase. During the recent cold spell, the facility broke a series of records, reaching over 90 per cent of its capacity, pushing out around 600 GWh of gas per day into the UK's network over the month, compared to between 200 and 400 GWh per day in a typical December – helping to keep homes and businesses warm and running.
The UK, which represents approximately 20 per cent of Europe's total LNG import capacity, has also been instrumental in the re-stocking of European gas reserves, which are in the region of 100 billion cubic metres (bcm). In fact, the UK was responsible for filling circa 16 per cent of Europe's gas reserves this winter. Where global supply patterns have shifted from a reliance on Russian gas, LNG has filled the hole and become a key enabler for Europe to reach its 90 percent storage target.
As well as being a record year, Q4 2022 was also a record quarter for the team, with 37 ships docking between September and December compared to a seasonal average of 16.
National Grid owns the terminal, infrastructure and storage tanks, and works with a range of customers who use the terminal to import gas from around the world.
Before the start of the Russia-Ukraine conflict, the UK received around 30% of LNG from Russia but, due to the events of the last 12 months, this has changed, with around a third of the ships coming into Grain from the United States of America.
Other sources include Nigeria, Chile and Peru. Flexible LNG plays a key role in security of supply.
Grain's Importation Terminal Manger Simon Culkin said: "It's been a remarkable year for the team at Grain, as we continue to play a critical role in supporting security of supply both here in the UK and for our European neighbours.
"UK energy security is dependent on a diverse mix of energy generation and sources, and LNG is an important part of that. Over the last year we have seen a real uplift in LNG imports from the US. Grain, which is the largest LNG terminal in Europe, has long been viewed as one of the leading gas terminals in the world and I'm proud of the service we provide to the UK and our European neighbours."
---
Contact for media information only:
Sara Revell
07811 768024
[email protected] 

Notes to editors: 
About National Grid Ventures  
National Grid Ventures operates outside of National Grid's core regulated businesses in the UK and US where it develops, operates and invests in energy projects, technologies and partnerships to accelerate the development of our clean energy future. 

National Grid Ventures operates a diverse portfolio of energy assets across the UK and US, including subsea electricity interconnectors, competitive transmission, wind and solar generation, battery storage and LNG storage and regasification. 
About National Grid 
National Grid sits at the heart of Britain's energy system, connecting millions of people and businesses to the energy they use every day. Our individual companies run the systems and infrastructure that deliver electricity across the country.