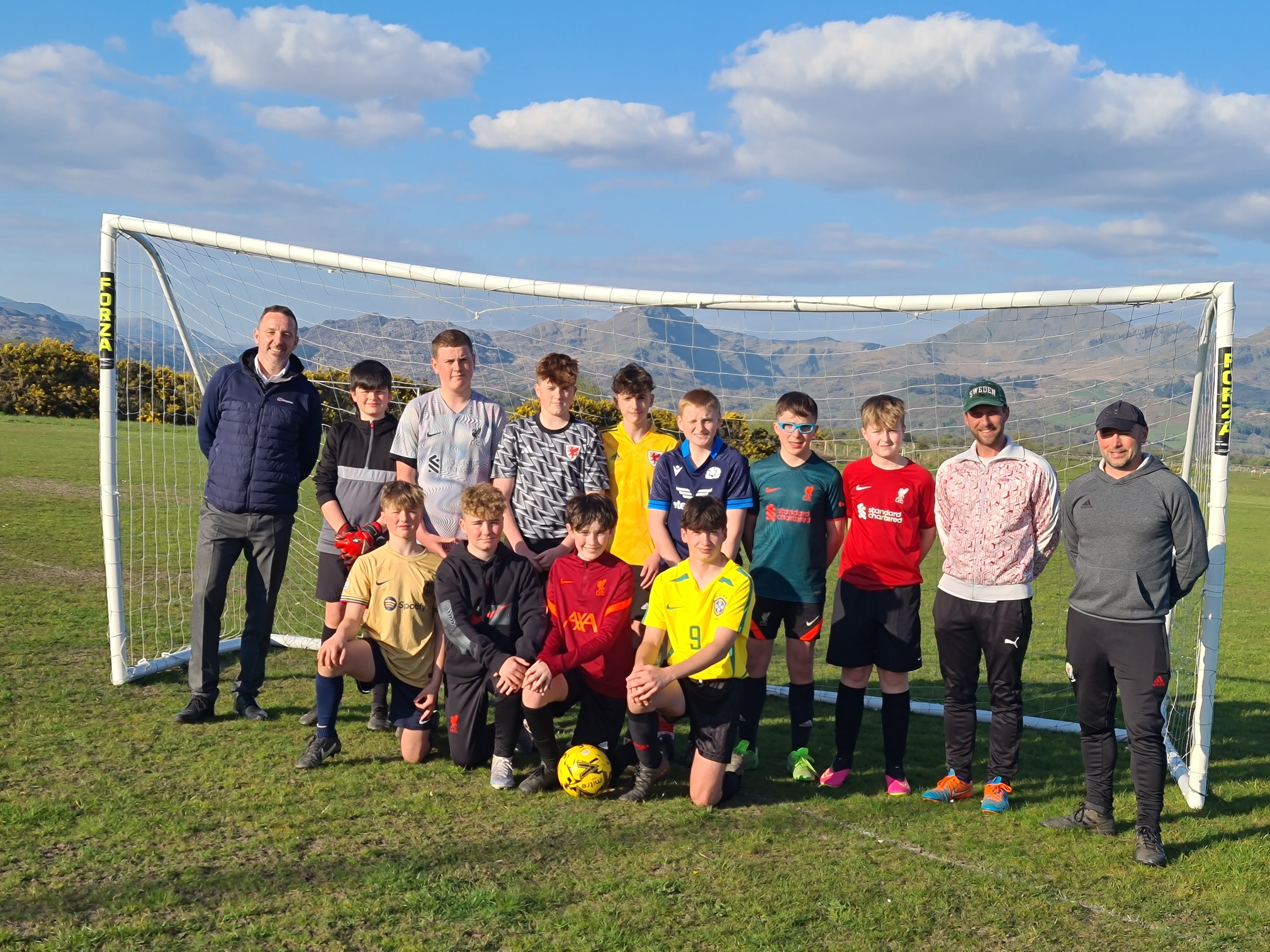 Junior footballers light up the pitch with National Grid community grant award
Porthmadog Juniors receive almost £10,000 from National Grid for pitch repairs and portable lighting

Pitch was infested with crane flies making it almost impossible for members to train

New lighting will boost training and reduce hire costs for the 130-member volunteer run grassroots club

Porthmadog Junior Football Club is celebrating the news that it has been successful in its application for funding from the National Grid Community Grant Programme.
The Community Grant Programme is aimed at community organisations and charities located in areas where National Grid is working. The Programme funds projects run by charities and community groups that meet local community needs by providing a range of social, economic and environmental benefits. With National Grid's Eryri Visual Impact Provision (VIP) project gathering pace in the Penrhyndeudraeth area, Porthmadog Junior Football Club applied for funding towards buying portable LED lighting and also to repair their pitch.
Elfyn Pugh, Secretary and Head Coach for Porthmadog Junior Football Club, explained: "We're a grassroots junior club of 130 members between six and 16 years old, run entirely by volunteers.
"During the summer, an infestation of crane flies laid eggs in the pitch that we use, which badgers, birds and other animals then dug up as a ready food source. This has made it difficult for the kids to practice and play on, so we applied for a grant to apply a treatment and reseed the affected areas.
"We've also been struggling without our own proper lighting. We've had to pay to use the halogen lighting from a nearby AstroTurf pitch to light our practice areas or hire other pitches with better lighting. The National Grid grant will allow us to purchase 12 portable LED lights for our practice area.
"This will make such a big difference: it means we can extend our training times, encouraging young people to be active for longer through the winter months. At the end of the day, our purpose is to get young people involved in sport and exercise, so that they can make the most of all the associated physical and mental health benefits. That's why we're so grateful to National Grid for this grant."
Steve Ellison, National Grid Senior Project Manager for the Eryri Visual Impact Provision project, said: "We're really pleased that funds from our Community Grant Programme, which has been specially designed to fund projects in communities near our operations, have been allocated to such a fantastic cause.
"We wish Porthmadog Junior Football Club all the best with their repaired pitch and new lighting."
The Visual Impact Provision project in Eryri National Park aims to reduce the visual impact of National Grid's overhead line across the Dwyryd Estuary. This involves the removal of around 3km of overhead line, including ten pylons, and the construction of a tunnel under the estuary.
More information about the Eryri VIP project can be found at www.nationalgrid.com/eryrivip
More information about National Grid's Community Grant Programme can be found at www.nationalgrid.com/responsibility/community/community-grant-programme
Contact for media information only:
[email protected]
T 07790 824788