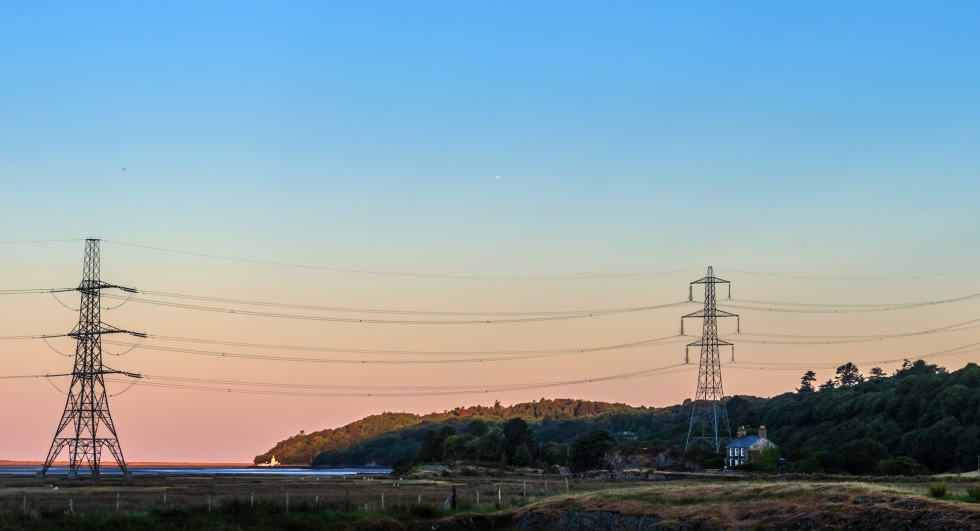 Boots on the ground for Snowdonia pylon removal project
National Grid and Hochtief UK are preparing the construction site for the Snowdonia Visual Impact Provision (VIP) project, with construction set to begin fully in 2023.

Snowdonia VIP will see ten pylons and over 3km of overhead electricity line removed from across the Dwyryd Estuary.

The project is designed to enhance the popular beauty spot for local people and visitors.


 
Work has begun in earnest on National Grid's major landscape enhancement project to transform views across the Dwyryd Estuary, by removing ten pylons and an over 3km stretch of overhead electricity line.
The project will require major engineering work, with National Grid working with main contractor Hochtief UK to build a new tunnel underneath the estuary to house cables. The team will also construct two separate tunnel head houses located at Garth and Llandecwyn, which have been designed to complement the local landscape.
With expert guidance from Gwynedd Archaeological Trust, the team has recently begun a comprehensive programme of archaeological survey works in Garth. This is part of work to establish the construction site near National Grid's existing land.
Ecological surveys and habitat management work have already taken place over the summer on the opposite side of the estuary in Llandecwyn, led by Mold-based Atmos consulting. This includes vegetation clearance, the installation of perimeter fencing and creation of 'refugia' to help safely trap and relocate reptiles from the site.
This initial site preparation work will be followed from 2023 onwards with a programme of shaft sinking, tunnel and head house construction, cable installation and commissioning. Pylon removal is expected to take place following this, in 2029.
It's one of the very first projects in the world to remove existing high-voltage electricity transmission infrastructure solely to enhance the landscape.
Steve Ellison, National Grid senior project manager for Snowdonia VIP, said: "The VIP project is unique. It's one of the very first projects in the world to remove existing high-voltage electricity transmission infrastructure solely to enhance the landscape. With the project set to take several years to complete, we're absolutely focused on working with Hochtief UK to get it right."
"The engineering challenges of the project require lots of different specialist skills to deliver it successfully, including the construction of a tunnel deep underneath the Dwyryd Estuary to house the new underground cables. The site preparation work we're doing now is key to putting important foundations in place for the project."
Jonathan Cawley, Snowdonia National Park Authority director, said: "The complex and dramatic Snowdonia landscape here seamlessly connects the popular tourist coastline of the National Park and adjacent upland areas.
"This is an exceptionally important project, which will enhance and protect this cherished landscape. Having additional workers in the area for around seven years will also be a welcome boost to our local businesses."
Stakeholders have been at the heart of the project throughout, and the scheme has been designed and refined with the advice of local experts and community representatives.
National Grid will meet regularly with a Community Liaison Group throughout construction, which includes representatives from Gwynedd Council, Penryhndeudraeth Town Council, Talsarnau and Maentwrog Community Councils, the Snowdonia National Park Authority and more. The first meeting of the Group took place in June.
Steve Ellison added: "As we establish a presence in the area for the coming years, supporting the local community is at the heart of our plans. Groups including Penrhyndeudraeth Football Club are already benefiting from funding through National Grid's Community Grant Programme – aimed at supporting fantastic projects which benefit local people."
Snowdonia VIP is one of a number of National Grid projects in North Wales, including work to reinforce the electricity network between Dinorwig and Pentir and in Glaslyn.
More information about the Snowdonia VIP project can be found at nationalgrid.com/snowdoniavip  
Information on National Grid's Community Grant Programme and how to apply can be found at nationalgrid.com/responsibility/community/community-grant-programme
Contact for media information only:
Helen Blake 07790 824788
[email protected]
---



About Visual Impact Provision
All electricity transmission owners are funded by a price control mechanism which is agreed with and set by Ofgem, the electricity and gas markets regulator. Ofgem has agreed a set of price controls and incentives for the period from April 2021 to March 2026, following the previous period (2013-2021). The new price controls and incentives include a provision of £465 million to mitigate the visual impact of existing electricity infrastructure in nationally protected landscapes in Great Britain.
For National Grid, which is the electricity transmission owner in England and Wales, this means considering the visual amenity of our existing infrastructure in Areas of Outstanding Natural Beauty (AONBs) and National Parks.
The Visual Impact Provision project has advised throughout by an independent panel of senior landscape experts from leading environmental organisations including the National Trust, the Ramblers, the Landscape Institute and the Campaign for National Parks plus CPRE, Natural England, Historic England, and their Welsh counterparts. The Group is chaired by environmentalist and broadcaster, Chris Baines.
The Snowdonia VIP project is one of only five in England and Wales alongside others granted planning consent in the Dorset AONB and Peak District National Park, as well as the North Wessex Downs AONB which is due to submit its planning application shortly, and a potential project in the Cotswolds AONB which is now in the early stages of planning.