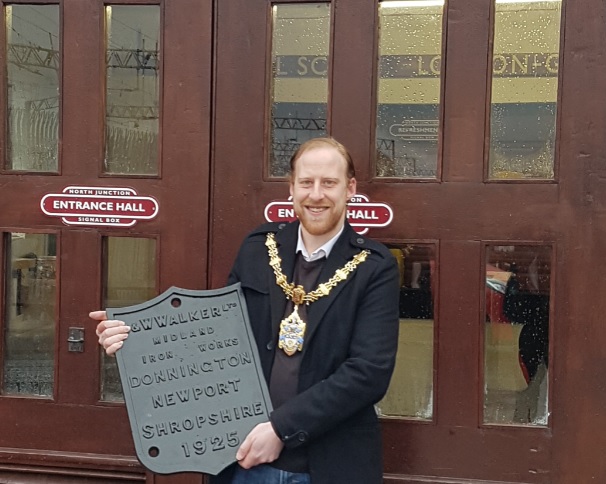 [7 December] Crewe gasholder plaque finds new home
National Grid has donated a maker's plaque from the gasholder on their Stewart Street site to The Crewe Heritage Centre. The plaque marks the construction of the gasholder in 1925 on a site that has been involved with the gas industry since 1876.
The plaque made the mile-long journey from the site to the Heritage Centre where it was accepted by local Mayor, Councillor Benn Minshall. Speaking at the handover Councillor Minshall welcomed the preservation of a piece of local industrial heritage; "We're delighted this part of the Town's industrial past has been protected and would like to thank National Grid for the donation. It is a small but significant part of our history."
The Stewart Street gasholder is being dismantled as part of a nationwide programme as gasholders are no longer needed for storing gas as part of the local gas network.
Gareth Taylor, Land Regeneration Manager at National Grid said; "Gasholders are an important part of our industrial heritage and during works like those at Stewart Street we undertake detailed heritage recording of the gasholders and always try to donate artifacts where we can. In this case it is great to find a new home for the plaque so close to where it has stood for almost 100 years."
Work is expected to be complete on the gasholder dismantling by mid-December.
Photo: Mayor of Crewe, Councillor Benn Minshall with the gasholder plaque
Contact for media information only:
 
Helen Blake
07790 824788