Fighting fuel poverty now and in the future
Affordable Warmth Solutions has spent the last decade working to help eradicate fuel poverty. National Grid has supported the scheme from the start and in 2017 committed £150 million to set up the Warm Homes Fund helping to bring heating solutions to deprived areas. On Fuel Poverty Awareness Day, Chris Bennett, Director UK Regulation, explains the difference this funding makes, and how much more we can do in the future to end fuel poverty.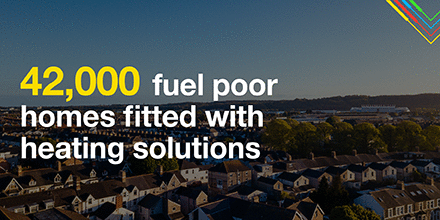 When it's cold outside most of us can switch on the heating to keep warm, but for those living in fuel poverty things aren't so simple. A cold home has a huge impact on everyday life; it can affect everything from our health to the ability to do homework for school, invite friends over or enjoy the festivities during holiday season. To tackle this problem Affordable Warmth Solutions (AWS) was set up 10 years ago, to provide warmer, healthier homes. It started by helping to connect 5,000 homes in deprived areas to the gas network and in 2017 National Grid committed £150 million to AWS to set up the Warm Homes Fund.
The Warm Homes Fund installs free first time heating solutions in fuel poor households and is now on track to deliver heating improvements to 42,000 homes, transforming the lives of those who live in them. One of the projects that National Grid and AWS have worked on is at The Belgrave Estate in Tamworth, where residents were forced to live in cold, damp houses without proper heating. One said they would sit with the dog on their feet to keep warm. Now the 259 properties there have been connected to the mains gas network to provide more effective and affordable heating systems. It's great to see the change this has made to the lives of people on the Belgrave Estate and one mum said that she had seen her son's health improve as a direct result.
From cold to cosy
Another example of the difference heating solutions can make is in Walsall Housing Group, where residents in 1970s built flats were dependent on inefficient electric storage heaters. In just eight weeks, and all during winter blizzards, 149 flats were connected to the gas mains, transforming the properties from cold and damp to warm and cosy.
21 students to study STEM subjects to help deliver energy solutions in the future.
But there is much more to AWS' work than providing heating to those who need it most. It has also seen 288 kilometres of new gas mains laid, helping to achieve lifetime environmental savings of 3.5 tonnes of CO2, which has the same impact as taking 580,000 cars off the road permanently. National Grid's activities through AWS have also funded 21 students to study STEM subjects to help build the skills required to tackle fuel poverty and deliver energy solutions in the future.
Working for a warm future
Bringing gas connections to areas in need is only part of the work being done to fight fuel poverty. AWS and the Warm Homes Fund is also delivering broader heat solutions, for example insulating homes to reduce heat loss. We also need to explore alternative heating options such as fuel pumps and use the insights we have gained to understand the causes of and solutions for fuel poverty. We need to continue to reach more deprived areas and ensure more families can keep warm in winter.